Published on
6 Questions to Ask Yourself Before You Accept a Ministry Position...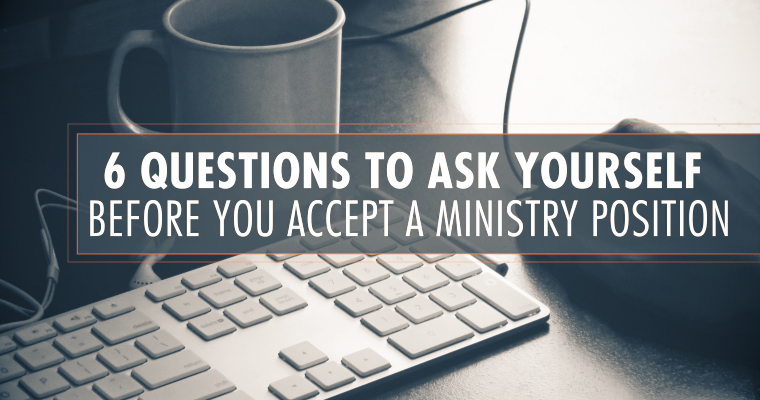 Authors

Name

William Vanderbloemen
Are you applying for a church job? Have you been out of the job market for while, or is this your 
first job search
? Here are six things you should consider about yourself and your church staff experience before applying for a church job.
1. What was the size of your previous church?
Have you only ever worked in a 50 person church before? Going from a church of 50 to a megachurch of 1,000 or more might be a big leap in your career. Are you able to handle the systems and processes that come along with a 
bigger church
? Are you able to handle the administrative workload that will come with working in a bigger church? Maybe you are better off going from a church of 50 to a church of 250 before taking the leap to apply for megachurch jobs.
2. What size teams have you led?
Almost every church job you ever interview for will ask this question: Do you have experience 
leading big teams
, or have you been a one-person shop? Do you know how to lead others, or are you still developing that skill-set? While you may think you can lead big teams of people, bigger churches will want to see that skill-set already proven in your 
church staff experience
.
3. How many disciples have you made?
Are you just starting your ministry path? Learning to 
make disciples
and actually making them are two very different things. Some things in life just take practice, and this is one of those things. Can you give specific instances of disciples you have made or lives you have helped to transform? Being able to succinctly relay this information to an interviewer will be important in the 
church job search process
.
4. How many years of experience do you have?
While it may not be everyone's favorite subject, 
years of experience do matter
 for some church positions. Are you fresh out of seminary, feeling called to be a Lead Pastor? There is no doubt that God provides a path to where he was called you, but your first Senior Pastor position is not likely to be at a church of 1000+ people, for example. A person just out of seminary simply won't have the life and ministry experience necessary for running and pastoring a church of that size yet. It takes years of ministry experience and maturity to be able to lead a large church and deal with the complex and sometimes difficult situations that are inevitable when leading a large staff.
5. What have you actually done?
In preparing for any job, whether in the church world or not, your future employer will want to know exactly what it is you have done in the past. Being able to relay your experience, accomplishments and specific details of what you have done before will be necessary in communicating your value to a future ministry employee. Make sure your 
minstry resume
 clearly and succintly relays what you have done and why it makes sense that you're applying for the job you are.
6. What kind of leader are you? 
Can you describe your leadership style? Do you know whether you work better with 
micromanagers
 or people who will give you free reign? Do you like to be the vision-caster, or are you better at implementing an already clearly-developed vision? Knowing these characteristics about your own leadership style will help you know whether a particular job and working environment is right for you. It will also help an employer know whether you will be a 
good fit
 on their church staff. The more you can honestly evaluate your own experience and resume, the more realistic expectations you will have when searching for a new church job. By being honest with yourself and others about your capabilities and previous ministry experience, you will be able to quickly tell whether a particular position or church may be the right fit for you.
How can you evaluate yourself as a church leader as you enter the job search process?